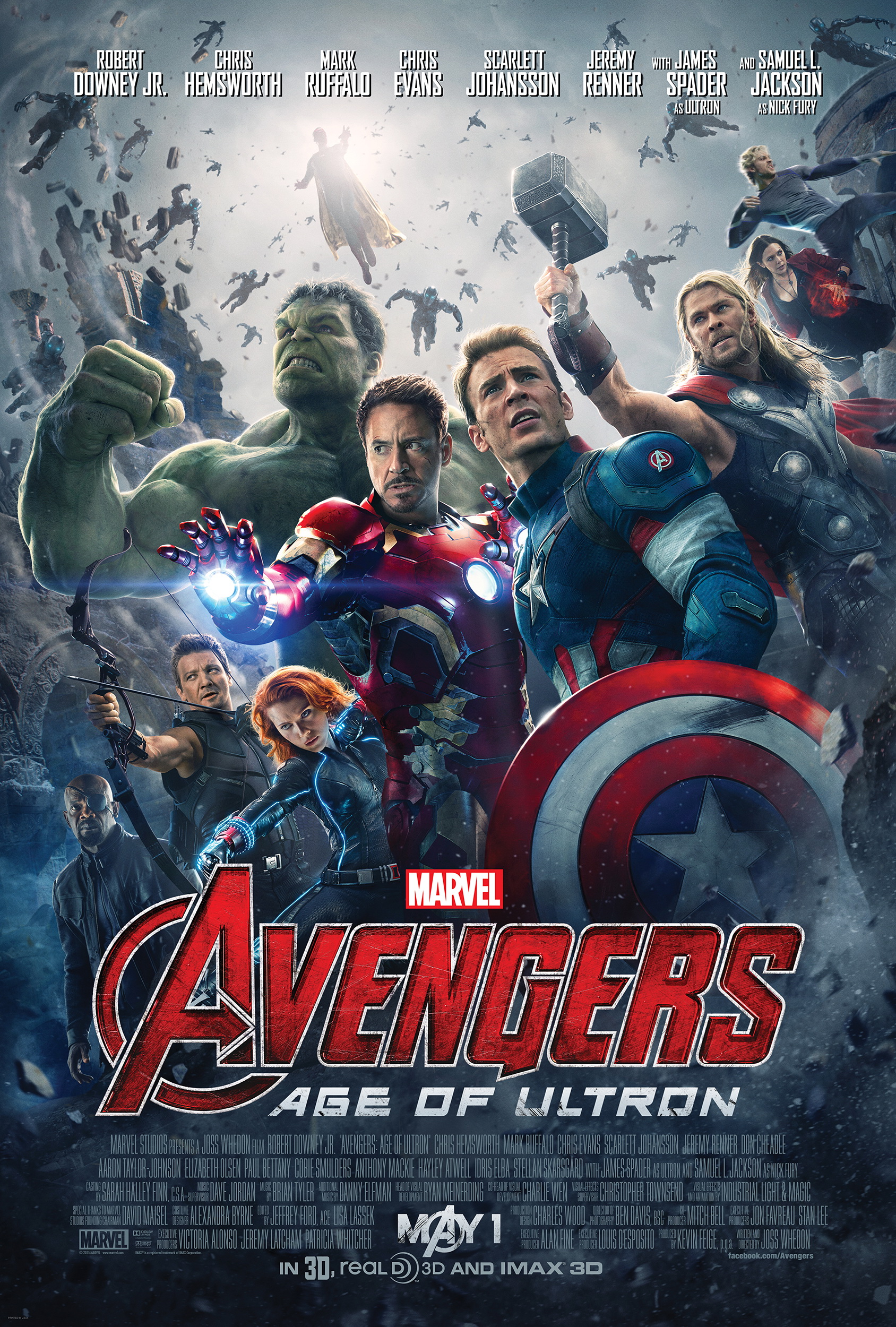 I will try my hardest to stay away from spoilers.
In 2012, I had the greatest movie-going experience ever when I saw the first Avengers movie. The theater was packed with nerds and everyone cheered when the team formed for the first time during the big battle.
I went into this at a midnight showing expecting the same experience. Unfortunately that didn't happen. By that sentence, you might be thinking that I'm leading this review into an area of disappointment…
'Age of Ultron' was totally AWESOME. I just wanted to point out that theaters shouldn't have multiple showtimes the day before official release. I wanted a packed theater full of sweaty nerds, and they were probably all dispersed into six different groups because of how many showtimes there were. This movie had all the great aspects of the first one, and it's a huge shame that I wasn't able to see it with the packed and enthusiastic crowd that I wanted.
That is truly my only legitimate complaint, and that's not even at the films' fault.
I do have a couple nitpicks to get out of the way though.
1. The story set up for the next Thor movie felt out of place.
It's not that it was unnecessary to have this in the plot, it was just poorly executed. Because I love this whole universe, I'm well aware of the Infinity Stone plot that they're leading up to, and I'm aware that Thor and Guardians of the Galaxy are the links that will set these points up the best, but the scenes with Thor discovering what he had to do with the "vision" needed more explanation and development. An extended cut for the video release could fix this, and hopefully the Infinity Stone plot will be explained to the audience thoroughly before we get to the big 2-part Infinity War movie.


2. Nothing else, I was kidding.
The rest of this movie is just terrific. The film is darker, and more serious than the first, but the fun humor from the first is still there mixed throughout, and it works so perfectly.
Ultron was a great villain, and James Spader was the best person to voice the character. He felt like a true threat, and even had some good humor going for him.
The relationship between every Avenger was very well done. I love all of the action scenes, but the best parts of both this and the first Avengers, are the scenes where they are just sitting around talking. This is where the direction and writing is shown to be at its greatest, and one scene that really shows this is when the team is all hanging out, drinking, and trying to lift Thor's hammer. It's just awesome.

Speaking of relationships, Bruce Banner and Black Widow have a thing going on in this movie. I actually liked it. I didn't think I would, but I did. I really got into Bruce's character in this. He truly hates turning into the Hulk. He's used in the team as a last resort, and it's because he is completely traumatized whenever he Hulks out, because of the destruction and horror he brings. Having Black Widow be there for him and adding some romance brought about more understanding to why Bruce feels dangerous and would prefer to be away from people.
The character of Hawkeye was handled SOOO much better this time around, and was given a lot of depth. He was humanized, and I really appreciated the scenes that showed that even though he's surrounded by God-like beings, the team still needs him.
Iron Man and Captain America were just as good as they ever have been. There's not too much else to say about their characters, especially since they've been pretty well developed in their other films. But they continued to shine in this, while still being able to be pushed over to focus on the other characters. They're well represented as co-leaders of the team, and I'm excited to see this dynamic switched up in next years' 'Captain America:Civil War'.
The additional heroes were pretty cool as well. 'X-Men: Days of Future Past' had a better version of the Quicksilver character, but this version was still pretty good. Aside from him, I thought Scarlett Witch was very cool, and Vision was probably my most favorite addition to this. As I said before, I thought Ultron was a great threat, and I really felt like the Avengers were screwed. But Vision was the answer to this and it was done so well.
The action of course, is nothing short of amazing. Every action set piece builds off of the next, and they're all unique. There is one shot in the final battle that might be one of the coolest action shots I've ever seen, ever. You will know when you see it.
Many sequels either top the original or fall in this area where they are far worse. I liked that this was neither. If it was miles better than the first, I would maybe then look at the first in a mediocre way. If it was worse, well then that would just be unfortunate. I would say that there were elements of the first movie that were better than the second, and elements of the second that were better than the first.
With that said, this is a great sequel, and a terrific film overall. It should absolutely be seen in theaters. Don't wait for it on blu-ray. This is an event!!! The action is fantastic, the chemistry between the characters is amazing, and it's just so much fun.
'Avengers: Age of Ultron' gets an A.

Side note: There is only 1 post-credits scene. It's pretty awesome. But nothing at the very end, just the middle. So you don't have to sit through the entire credits, don't worry.