I decided that instead of just reviewing the latest and final Hunger Games movie, I would go back and review the series as a whole. Reason being: I just feel like there isn't too much to be said on the final movie, and you'll understand why towards the end of the this.
First up, is 'The Hunger Games'.

This 2012 film started it all of course. Other than 'Harry Potter' (if that even counts), these young adult novels have never really been my thing. I've never seen or read 'Twilight' or 'Divergeant', and I never will. I did start reading these books upon the release of this movie, and I enjoyed the first half of it enough to see this. I ended up really enjoying it. After seeing this movie, I finished the book, and then read the second one. For some reason, I never got around to reading the third, mostly because I initially wanted to take my time with the books, and read them as each movie got a little closer to release. But reading has always been a difficult thing for me, because…it's reading. Too much work, end of story. This review is for the movies alone anyways.
This movie was enough to spark an interest in the series though, and my enjoyment with it had me looking forward to 'Catching Fire' quite a bit. Other than that, there's not much else for me to say about 'The Hunger Games'.
When I revisited this movie in preparation for the the 'Mockingjay' finale, I realized that this movie was insanely difficult to re-watch. Seeing it for the first time, and being introduced to this world and characters is one thing, but re-watching it after the series progresses is another. It's an enjoyable flick, but there are pacing issues of epic proportions. The best thing I can say about this movie is that it's a pretty decent movie, that just doesn't hold up. I think that main issue with re-watching this is 'Catching Fire' being so damn great.

'Catching Fire' is basically just the first movie, but done WAY better. It's filmed nicely, looks beautiful, and has terrific acting. It's not to say that the first film didn't have some of these good elements too, it's just that after seeing this one, it's very hard to go back and experience the first again.
There's some nice twists, and the pacing is very smooth. It's a tad bit longer than the first, but feels like it goes by quicker. That really says something about its good pacing.
It's the best looking of the franchise, and for me, the most emotional. The scene where Katniss goes from the real world and into the arena is heart pounding. I love going from the traditional widescreen aspect ratio and into IMAX. This, mixed with terrific sound editing and Jennifer Lawrence's raw reactions made this sequence so powerful. This is by far my most favorite moment in the series.
The entire arena sequence is filmed with IMAX cameras and it's just awesome. I felt completely invested for the whole duration of their time in the arena, and the ending of the film sets up the series finale so perfectly.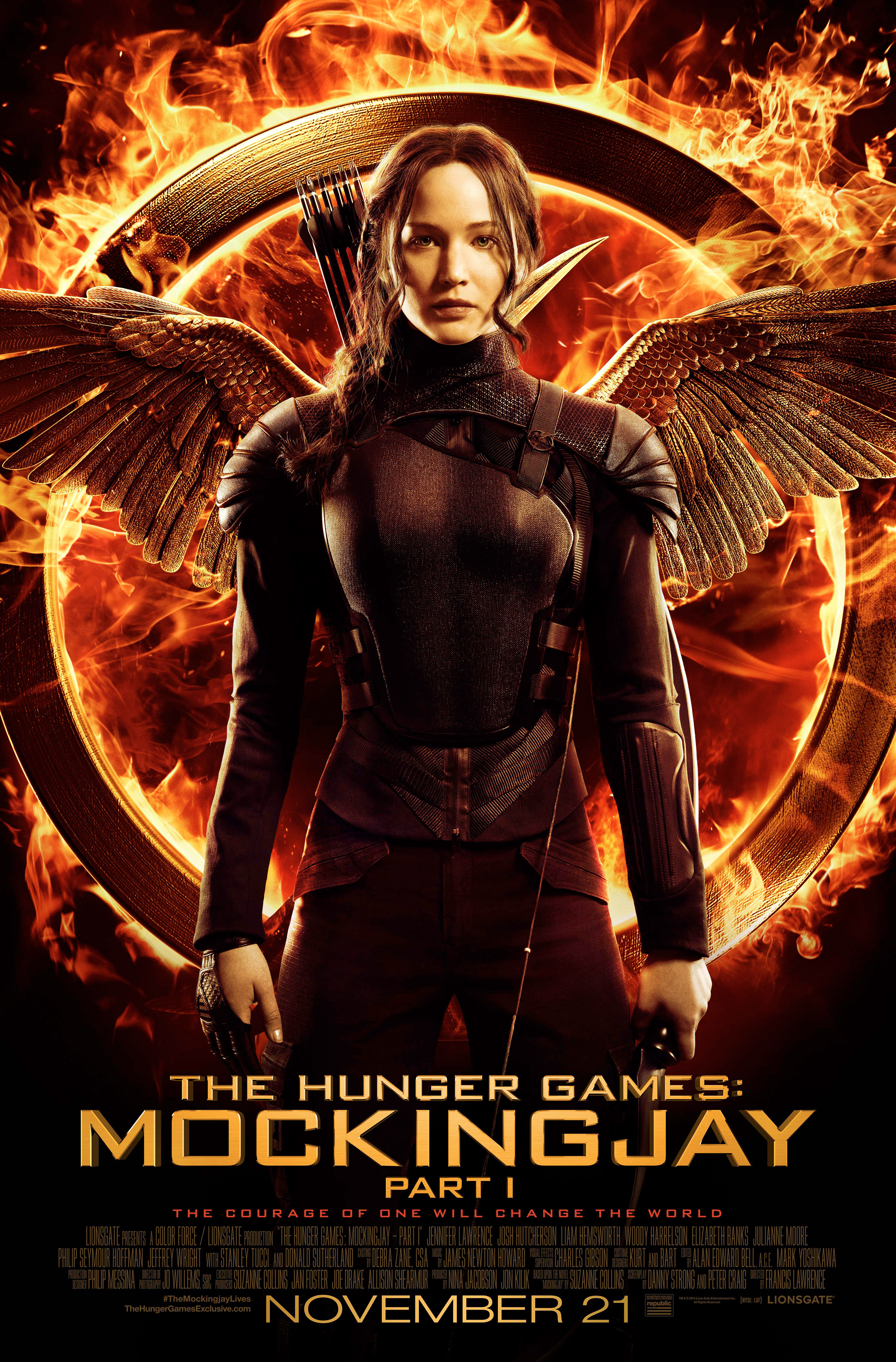 But we don't get the finale right away now do we?
Nope. Instead, we got to experience the first half of the last movie a year before seeing the rest. Hollywood greed at its finest.
I strongly believe that the decision to split the last Harry Potter movie in two parts was a good decision. It's a long book, and the film makers wanted the finale to be epic, and not miss any important details. There was enough material to make this creative decision happen.
In the case of 'Mockingjay', this didn't feel like a creative decision. This just felt like an economic decision.
When I first saw this movie last year, I hated it. Very little happens, and it's ALL set-up, with ZERO pay-off.
Re-watching this series, and viewing this movie just 1 day before viewing Part 2, was far more enjoyable. But that's probably all because I knew that I would get to see the rest of the story the next day, as opposed to waiting a full year.
This is why I view 'Mockingjay Part 1' as 'Mockingjay' disc 1. It feels like the first disc of a 'Lord of the Rings' extended edition. There's nothing wrong with that entirely…it's just that it was SO unnecessary to make audiences pay to see the first disc, wait a year, then pay to see the second.
Disc 1 of 'Mockingjay' isn't as bad when watching it in this way though. There are definitely things to enjoy here, especially with the propaganda focus this film takes. It's interesting, and leaves a lot of room for other characters besides Katniss and Peeta to grow.
And Disc 2 is all the pay-off we expected from Disc 1's set-up.
In all seriousness, this is a fine movie, even on its own. But it's no secret that 'Mockingjay' Parts 1 and 2 should really just be looked at as one big 4 hour movie… and that's how I would like to review it. It's just that it's not that simple sometimes. This is the one that's out right now in theaters, and this is the one people are flocking to see.
The start of the movie has many of the pacing issues from the 1st and 3rd movies. This is all because the decision of splitting this story in half, effected not just the one movie, but both of them.
As it keeps going, it gets better, and the action was just as solid and smooth as it was in 'Catching Fire'. I would love to compare the action to Part 1, but there was no action in Part 1. And why would there be? There's no action in 'Lord of the Rings: The Two Towers' extended edition disc 1, so why would they jump right into it here?
It's all pretty entertaining, the acting is good, and it serves as a fitting finale to the series. Any problems with it are nothing new, as they existed in previous movies. Poor chemistry with the love triangle, slow pacing, etc…
The most irritating thing about 'Mockingjay Part 2' is that Part 1 exists. They could have easily made this short book into a 2.5 hour movie, just as they did with the first 2 films. Every movie ever made is 4 hours at one point. It's called editing. Why didn't they just do it here?
With all that said though, I must admit, splitting the story did serve a purpose in a few areas. Particularly President Coin (Julianne Moore), who was given a lot to do in Part 1. This was one character I liked seeing fleshed out more, and if you know how things end, you will understand my reasoning for this.
I also liked how Part 1 had almost no Peeta at all, and Part 2 is very Peeta heavy. Honestly, I think Josh Hutcherson did his best work as Peeta in these final 2 acts. He was the one other character that really showed progression, and I actually cared.
Things like this actually make me appreciate that the movie was split in two. However, I still hate the studio for doing this. It was dumb. They could have made an extended edition for the home video release. That would have sufficed. But instead, the series peaked with 'Catching Fire', and then that hype for the finale was squashed because this was all stretched out far longer than it needed to be (in real time).
The series as a whole is pretty good and enjoyable. In retrospect, I only really "loved" one of them, while the others I found just… enjoyable. It probably would not be as successful if someone else was playing Katniss. So props to Jennifer Lawrence for making this series feel a little more on the adult side and a little less "teen". And shout out to Josh Hutcherson for surprising me and to Woody Harrelson for keepin' it real. I'm glad it was able to wrap up nicely, and all in all, this was a fun series.
But Hollywood, please. Think about what it takes to deliver a well executed, and well paced story before letting your desire to shit money come first. This good series could have been just that much better.
Ratings:

'The Hunger Games': C
'Catching Fire': A-
'Mockingjay Part 1':  C+
(Seeing a full year before Part 2: D+)
'Mockingjay Part 2': B
'Mockingjay' as a whole: B-